Frequently
Asked
Questions
​
Here are some questions frequently asked by prospective cast and crew members. Should you still have questions after reviewing this list, please Contact Us.
What are the dates for SSTI 2021?
---
Session 1- SSTI and SSTI Tech (Hilton Head Campus, Hello Dolly) June 7th- Cast and Crew Check-in Day June 25th- Opening Night July 4th- Closing Matinee Performance/ Cast and Crew Check-Out Session 2- SSTI and SSTI Tech (Hilton Head Campus, Crazy for You) July 12th- Cast and Crew Check-in Day July 30st- Opening Night August 8th- Closing Matinee Performance/ Cast and Crew Check-Out SSTI Junior (Hilton Head Campus, Non-Boarding Program) July 6th- First Day of Program (10a-5p daily) July 10th- 2pm Performance and departure SSTI Essentials (Campus TBA) Essentials Session One: June 13th- Cast Check-in Day (Afternoon) June 14th- First Day of Program June 25th- Final Day of Program/Attend SSTI's Musical Opening Night June 26th- Morning Departure Essentials Session Two: July 18th- Cast Check-in Day (Afternoon) July 19th- First Day of Program July 30th- Final Day of Program/Attend SSTI's Musical Opening Night July 31st- Morning Departure
---
What are the ages for SSTI 2021?
---
For SSTI Musical Theatre, Essentials, and SSTI Tech: current 8th-12th graders are eligible. For SSTI Junior: current 5th-7th graders, who have a dedicated interest in musical theatre. SSTI's programs are designed to replicate the standards of a working regional profesional theatre. Our students all want to pursure musical theatre and technical theatre for a career and are actively invested in the appropriate steps to make that a reality. SSTI's high school programs are not the right fit for a student who simply enjoys doing musicals, or wants to try something new.
---
What are the deadlines for SSTI 2021?
---
SSTI, SSTI Tech, and SSTI Essentials January 15, 2021- Early Admission* deadline for All Programs January 23, 2021- Early Admission acceptances released January 29, 2021- Early Admission contract and full tuition due March 15, 2021- Regular Decision deadline for All Programs March 19, 2021- Regular Decision acceptances released *Early Admission: Similar to the college experience, some students know that their only plan for summer is SSTI. These students are ideal candidates for our Early Admission program. Students applying early decision are committing their summer to SSTI and paying full tuition by late January. They also face a smaller field of competition than students applying regular decision. Early admission applicants may also be waitlisted until the regular admission deadline.
---
Where are the cast and crew members housed?
---
Our housing program at SSTI is unrivaled by any camp experience in our industry. The students (technical and performers) are housed on a 4-1 ratio of student to Resident Assistant. The housing in 2021 has been upgraded to brand new apartment-style living. Students will have the benefit of being housed in newly constructed suite style apartments (4 bedrooms/2 bathrooms). While we encourage a 'graduated independence', students will have an adult resident assistant on hand and in the apartment to help our youngest of students feel at home, and learn the 'ins and outs' of self-accountability. Students will be transported daily by our staff in shuttle vans. SSTI Junior is a day program only.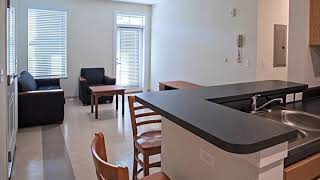 ---
What are meals like for students at SSTI?
---
The health and wellbeing of your child is the utmost priority for the staff at SSTI. As we strive to fulfill our mission of training 'professionals on-stage and off', our residential staff works to teach the students about healthy eating during their time at SSTI. Each home will be placed on a meal plan, receiving weekly (or twice weekly) grocery deliveries. This delivery contains healthy options for a fresh breakfast and materials for the students to pack their daily lunch. The staff works with the students to be sure that they are awake each morning, that their breakfast is prepared and that their lunch is packed. In the evenings, the SSTI Chef brings a hot meal to the homes for the staff and students to enjoy nightly. The students also take a weekly trip to the grocery store, where they can purchase any special snacks or items not on the meal plan. Special diets: SSTI does its best to accommodate special diets. There will be a designated vegetarian diet option offered at all meals. Students that are gluten-free, extremely picky eaters, or dedicated junk food fans are encouraged to bring extra spending money for the grocery trips as those dietary restrictions are not accommodated by our meal plan. Students may also pack their favorite snacks.
---
What is the tuition for SSTI 2021?
---
Tuition for Summer 2021 has been set and all programs include a private bedroom and board, unless otherwise noted. SSTI Four Week Musical Theatre Session: $5975 SSTI Four Week Technical Theatre Session: $5275 SSTI Essentials: $3175 SSTI Junior Session: $575 At the bottom of each program's info page you'll find more details, dates, and tuition breakdowns for all our programs.
---
Who are your faculty and what are their backgrounds?
---
The diverse faculty at SSTI travels from all of the country every summer to help train the next generation of performers attending our programs. We interview, background check and reference check to not only insure that we have the finest of talents on our faculty, but also the highest quality role models to work with our developing performers. Our faculty's training ranges from top BFA Musical Theatre Programs to Doctorate Graduates in their field, all with impressive bodies of work on their resumes. Many of SSTI's faculty members return annually to nurture and support the students in our boutique program. Our guest artist staff annually includes Tony-winning and Tony-Nominated stars of the Broadway stage who bring their talents and generosity to the students in the small sessions at SSTI. Beyond our Broadway guests, SSTI's guest artist roster includes specific coaches and professors from top collegiate musical theatre programs who annually return to SSTI because of the immense talent pool and passion found amongst our student body.
---
What type of financial aid or payment plans are offered?
---
SSTI is a completely tuition funded program with no outside grants or sponsorships. With our unrivaled staff, guest artists and extremely high production costs, SSTI does not currently offer a broad scholarship program. However, with our small size, we are able to work with our families to develop an individualized payment plan and contract for the tuition. If this is of interest to you, we advise that you complete the registration process and then we can move forward after acceptance.
---
What are the benefits of Early Enrollment?
---
Much like college applications, SSTI's early enrollment is an option for students who want to get ahead of the crowd and make their plans early. Students who apply to our early admissions program commit their summer to SSTI in January. They also face less competition, given their application is considered in December, well before the rush we typically see in late February/ early March. Due to the popularity of the early admission program, some students may be waitlisted until the regular admission deadline.
---
What's the right age to attend SSTI?
---
With only 25 students in each musical theatre session, we can insure that all ages are represented in the acceptance pool. We have so many of our alums who start with us as 9th graders and attend every summer. We also have students who only attend the summer before their senior year, to get that jump on the college audition prep. When we move into the masterclass week, it takes a different meaning for each age group. Working with a professor from the nation's top university, might be intimidating and eye opening for a rising freshman. For a rising Junior, it's immediate and exactly what they're seeking. For the recently graduated senior, it's an opportunity to be coached on technique or acting by one of the greatest teachers in the indusrty. There is value for all ages.
---
---